Video


Codec: MPEG-4 AVC
Resolution: 1080p
Aspect ratio: 1.78:1
Original aspect ratio: 1.85:1



Audio




English: DTS-HD Master Audio 5.1 (48kHz, 24-bit)
English: Dolby Digital 2.0 (256 kbps)





Subtitles




None




Discs


Blu-ray Disc
Single disc (1 BD-25)
Visible Scars
 (2012)


Visible Scars Blu-ray delivers stunning video and mediocre audio in this excellent Blu-ray release

Stacy Walker heads for the mountains to escape her abusive boyfriend. Despite temporary relief from her tormentor, Stacy is overcome with the sound of little girls' voices...and soon the hallucinations become a violent reality.


For more about Visible Scars and the Visible Scars Blu-ray release, see Visible Scars Blu-ray Review published by Michael Reuben on July 15, 2013 where this Blu-ray release scored 4.0 out of 5.

Director: Richard Turke
Writers: Thomas L. Ferguson, Richard Turke
Starring: Jillian Murray, Tom Sizemore, Hanna Hall, Deja Kreutzberg, Dave Parke, Timothy Ryan Cole
Visible Scars Blu-ray, Video Quality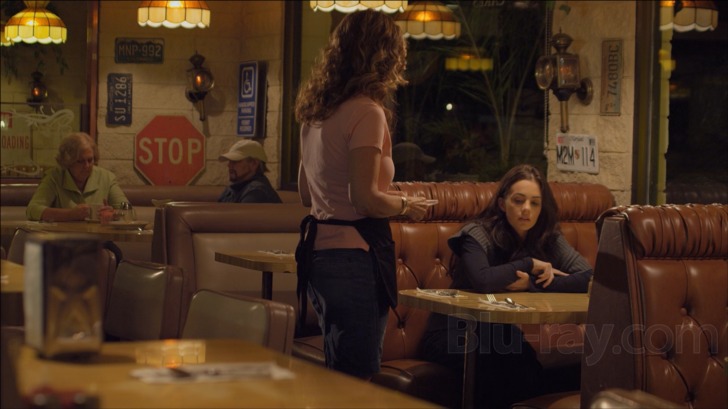 Visible Scars
 was shot by venerable horror cinematographer Jacques Haitkin, whose work includes the original
A Nightmare on Elm Street
(and its
first sequel
),
The Hidden
and a personal favorite of mine,
Galaxy of Terror
. I was not able to find definitive information about the shooting format, but judging by appearance and the lack of any credits for film scanning, the movie was almost certainly acquired digitally. (Most indie projects opt for digital today, if only because it's cheaper.)
Echo Bridge's cut-rate approach to Blu-ray works best with a digital source, because there are no finicky film transfers to wrangle. The 1080p, AVC-encoded Blu-ray for
Visible Scars
sports a clean, noise-free and detailed image that, ironically, provides the contemporary equivalent of a Seventies exploitation film. The older look would have been cheap and grainy. Today we're used to documentaries shot on video and reality TV. By lighting spaces for visibility, not people for glamor (although several of the leads are attractive even without special lighting), DP Haitkin conveys the sense of voyeurism that has long been an essential element in the horror and thriller genres. Blacks are solid, which is essential to scenes at night and in dark interiors, especially where poor visibility is a crucial element in creating confusion (or assisting a practical effect). The color palette is muted and naturalistic, without anything too bright or saturated to enliven this world of dark deeds and buried truths. At 101 minutes with limited extras, the film resides comfortably on a BD-25, without visible compression issues.
Visible Scars Blu-ray, Audio Quality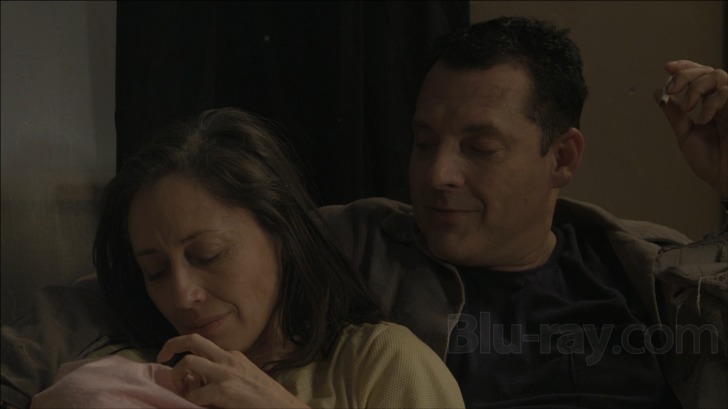 Visible Scars
' soundtrack is presented in lossless DTS-HD MA 5.1, and something is wrong with it, although I can't say whether the problem is in the disc mastering or is inherent in the original mix. The track is mixed at an unusually low level, so that I had to raise my volume level by +5 db above my usual listening level just to hear the dialogue. Even then, much of the dialogue was muddy and hard to make out, as if poor-quality production sound had been used or something had gone wrong during the mixing sessions. Since the rest of the production was professional in its execution, I'm forced to question whether something was amiss in Echo Bridge's mastering and reproduction of the disc.
Sound effects are adequate, and James Eakin III's moody score has decent, though not exceptional, fidelity. Aside from volume and dialogue issues, the soundtrack did not stand out as a disaster, although it rarely rose above mediocre. That would be consistent with Turke focusing most of his budget on effects and actors, but only someone who worked on the film can say whether the track is an accurate reproduction of what the sound team created.
Your cart is currently empty