Video
Codec: MPEG-4 MVC (35.69 Mbps)
Resolution: 1080p
Aspect ratio: 2.40:1
Original aspect ratio: 2.39:1
Audio
English: DTS-HD Master Audio 7.1 (48kHz, 24-bit)
English: Dolby Digital 2.0 (224 kbps)
Spanish: Dolby Digital 5.1 (448 kbps)
French: Dolby Digital 5.1 (448 kbps)
Spanish: DTS 5.1
Portuguese: Dolby Digital 5.1

Subtitles
English SDH, Portuguese, Spanish, Danish, Finnish, Norwegian, Swedish

Discs
Blu-ray 3D
Blu-ray Disc
Four-disc set (3 BD-50, 1 DVD)
DVD copy
D-Box

The Wolverine 3D
 (2013)
The Wolverine 3D Blu-ray delivers stunning video and reference-quality audio in this excellent Blu-ray release
Based on the celebrated comic book arc, this epic action-adventure takes Wolverine, the most iconic character of the X-Men universe, to modern day Japan. Out of his depth in an unknown world he faces his ultimate nemesis in a life-or-death battle that will leave him forever changed. Vulnerable for the first time and pushed to his physical and emotional limits, he confronts not only lethal samurai steel but also his inner struggle against his own immortality, emerging more powerful than we have ever seen him before.
For more about
The Wolverine 3D
and the The Wolverine 3D Blu-ray release, see the
The Wolverine 3D Blu-ray Review
published by Jeffrey Kauffman on November 29, 2013 where this Blu-ray release scored
4.0
out of
5
.
Director:
James Mangold
Writers:
Mark Bomback
,
Scott Frank
Starring:
Hugh Jackman
,
Tao Okamoto
,
Rila Fukushima
,
Hiroyuki Sanada
,
Svetlana Khodchenkova
,
Brian Tee
Producer:
Lauren Shuler-Donner
The Wolverine 3D Blu-ray, Video Quality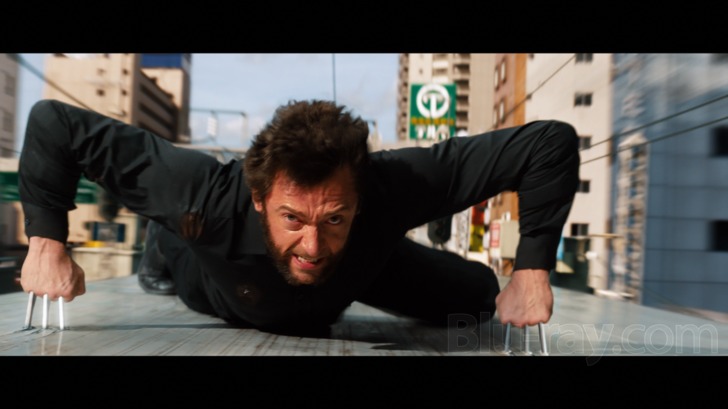 The Wolverine
slashes its way onto Blu-ray with AVC (2D) and MVC (3D) encoded 1080p transfers in 2.40:1 from 20th Century Fox Home Entertainment. Since there are for all intents and purposes no differences in image quality between the Theatrical and Unleashed Extended (2D) versions of the film, they'll be treated as one entity for the purposes of this review.
The Wolverine
boasts a gorgeously sleek and well defined image, courtesy of the Arri Alexa. While director James Mangold and his DP Ross Emery have occasionally rather aggressively color graded certain sequences, the bulk of the film features a natural looking palette with extremely well saturated color. The opening Nagasaki sequence is tinted to a suitably late summer amber color (see screenshots 6 and 7), while Wolverine's exploits in the Yukon are cool blue (see screenshot 9). Later, when Logan gets to Japan, a seminal moment in Yashida's compound is similarly blue tinted (see screenshot 14 in the Blu-ray.com
The Wolverine Blu-ray review
). Fine detail is exceptional throughout this presentation, offering beautifully precise renderings of things like Mariko's finely textured kimono or the henna red strands of Yukio's hair. A
lot
of
The Wolverine
is rather dark (more about that in a moment in the 3D section), which does tend to rob the film of shadow detail, especially in the climactic scene in the mountaintop fortress. There is also one noticeable moment of motion judder as the camera pans quickly left during the funeral scene at about 35:46, but otherwise this is a problem free presentation.
The Wolverine
's conversion to 3D is an often quite artful affair, though some may think they've mistakenly put in the 2D version as the film gets underway and there's a decidedly flat view of the waterside at Nagasaki. That soon changes as the camera pans right and a guard tower of the prisoner of war camp comes into view and is clearly placed in the foreground. Some effects that one might expect to be spectacularly dimensional—like Logan in his "prison tube" or even the nuclear explosion itself in the opening sequence—are curiously compressed, but just as often more subtle moments, like a long metal railing Mangold pans across in the funeral scene or even the many scenes in traditional Japanese homes where paneled screens offer built in planes and frames of reference, significant dimensionality is achieved. What may irk some 3D aficionados is how dark the film tend to be, especially in its latter third, which is when one of two huge set pieces plays out. This darkness automatically robs the image of depth and dimensionality and seems to work against the very setting of this climax, which is full of huge towers, protruding catwalks and other phenomena that would seem to be the perfect building blocks for a great 3D experience. One kind of odd thing about this presentation—pay attention to the difference between the rain sequences and the snow sequence. When it rains, there's
one
sheet of rain pouring down in the foreground, with seemingly nothing going on in the background. In the snowy sequence which sets up the climactic scene in the mountaintop fortress, it's a much more organic, natural looking presentation, with flakes of snow clearly in different dimensional planes.
The Wolverine 3D Blu-ray, Audio Quality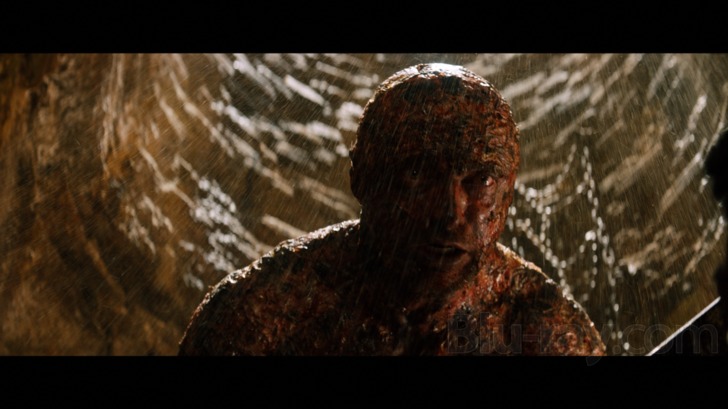 The Wolverine
's lossless DTS-HD Master Audio 7.1 mix is one of the best examples of total—and at times smart— immersion in recent memory. What may shock some listeners is the relative lack of "oomph" at the first expected moment— when the atom bomb hits Nagasaki, but there's a low frequency rumble that soon builds to impressive proportions, quelling any doubt that this is going to be a
very
forceful and aggressive mix. But even better than that obvious approach are some very subtle touches. Listen, for example, in the Yukon scene when Logan traipses through the woods with a grizzly bear walking nearby. The occasional "caws" of crows are brilliantly placed around the soundfield, as is the crunch of the ground under both Logan's and the bear's feet. Later, when Mariko's erstwhile lover, now a ninja, shoots arrows to and fro, there's a fantastic "whoosh" that zings through the soundstage and may provoke an involuntary "duck" response. The quicksilver sounds of Logan's adamantium claws as well as Yukio's
katana
are given nicely metallic foley effects as well. Dialogue is cleanly presented, though it must be stated that several of the Japanese actors are a bit hard to understand at times (there are optional subtitles to help in this regard). (It should also be noted that some of the film is
in
Japanese, with subtitles automatically provided.) Marco Beltrami's score is rather well done for a film of this type and is effective while being relatively unobtrusive most of the time (for those who pay attention to this sort of thing, listen to how Beltrami seamlessly segues during the climax as different characters' activities are being explored).
Your cart is currently empty