Video
Codec: MPEG-4 AVC (29.92 Mbps)
Resolution: 1080p
Aspect ratio: 2.39:1
Original aspect ratio: 2.39:1
Audio
English: DTS-HD Master Audio 6.1 (48kHz, 24-bit)
Portuguese: Dolby Digital 5.1

Subtitles
English SDH, Portuguese, Spanish

Discs
Blu-ray Disc
Five-disc set (2 BD-50, 3 DVDs)
BD-Live
The Lord of the Rings: The Two Towers
 (2002)


The Lord of the Rings: The Two Towers Blu-ray comes close to perfection with top scores all around making it one of the best Blu-ray's ever

Frodo Baggins and the Fellowship continue their quest to destroy the One Ring and stand against the evil of the dark lord Sauron. <br/><br/> The Fellowship has divided; they now find themselves taking different paths to defeating Sauron and his allies. Their destinies now lie at two towers — Orthanc Tower in Isengard, where the corrupted wizard Saruman waits, and Sauron's fortress at Barad-dur, deep within the dark lands of Mordor. Based on the novel The Two Towers, the second in The Lord of the Rings trilogy by J.R.R. Tolkien.


For more about The Lord of the Rings: The Two Towers and the The Lord of the Rings: The Two Towers Blu-ray release, see the The Lord of the Rings: The Two Towers Blu-ray Review published by Kenneth Brown on June 17, 2011 where this Blu-ray release scored 5.0 out of 5.

Director: Peter Jackson
Writers: Fran Walsh, Philippa Boyens, Stephen Sinclair, Peter Jackson, J.R.R. Tolkien
Starring: Elijah Wood, Ian McKellen, Liv Tyler, Viggo Mortensen, Sean Astin, Cate Blanchett
Producer: Barrie M. Osborne
The Lord of the Rings: The Two Towers Blu-ray, Video Quality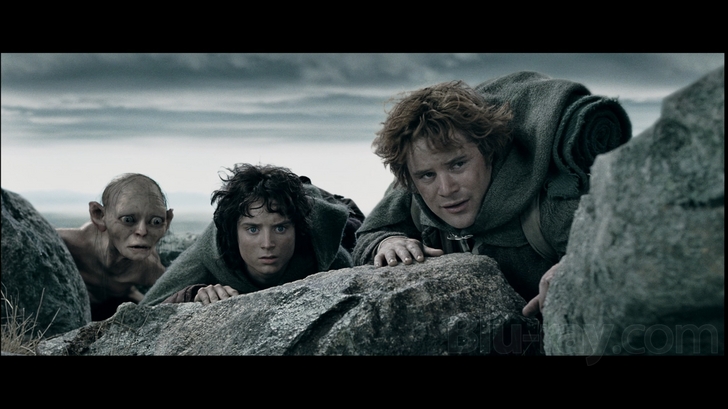 All our hopes now lie with two little hobbits, somewhere in the wilderness.
I was already fairly pleased with the VC-1 encoded transfer afforded to
The Two Towers
' theatrical cut in 2010. And while the Extended Edition's 1080p/AVC-encoded presentation isn't all that different, it does feature several subtle but welcome improvements. A faint hint of edge halos remain, but some of the more distracting bouts of ringing have been tamed or banished altogether. Compression artifacts, though far from a pervasive nuisance in the 2010 theatrical cut release, have all but been eliminated. (Spreading the film across two BD-50 discs helped in that regard, no doubt.) And what little smearing does appear most likely traces back to Jackson and director of photography Andrew Lesnie's tinkering years ago, not an extra helping of studio-applied DNR. (Reports are a bit conflicting, but signs point to the extended edition of
The Two Towers
being born from a new HD master.) Again though, the differences between the theatrical and extended presentations are small and delicate, and most viewers won't even notice they've been made.
As before, skintones are relatively lifelike, contrast is strong and reliable, and black levels are deep and earthy. Lesnie's bleak colors aren't as far removed from
The Fellowship of the Ring
's palette as they once were -- Jackson and Lesnie have re-graded the extended edition of
Fellowship
, making it much darker -- but each scene is faithful to its source. Moreover, unsullied fine textures, crisply detailed rocks and grasslands, wonderfully refined cloaks and well-resolved hairs, pores and shards of bark don't disappoint. Note Gandalf's beard and pocky nose during his battle with the Balrog, Gollum's craggly cheeks, the sun-scorched knolls and stony cliffs of Rohan, the rustling leaves in the Ents' shadowy realm and the grizzled walls of Helm's Deep. Granted, the transfer is no stranger to softness and a number of special effects sequences show their age (Théoden's awakening doesn't hold up and Merry and Pippin's travels with Treebeard remain eyesores), but almost every instance is attributable to the original source, not the studio's subsequent encode. (It's important to keep in mind that
Towers
was shot more than ten years ago. I can't believe it either.)
I don't have many complaints, actually. Minor crush takes a slight toll and delineation isn't always ideal, but it all seems inherent to the original photography. Noise spikes at times, but it rarely proves to be unruly (at least for very long). And there isn't any significant artifacting, aliasing, banding or other nonsense of their kind to report. I suspect if criticism does arise, it will be of the original print, whether the person issuing the criticism realizes it or not. I can't imagine
The Two Towers
looking much better than it does here. I'm sure there's room for some further improvement -- a frame here, a frame there -- but I was thoroughly pleased with the results. As to my score, I bobbled between a 4.0 and 4.5, landed squarely on a 4.25 and rounded up to the nearest half-point.
The Lord of the Rings: The Two Towers Blu-ray, Audio Quality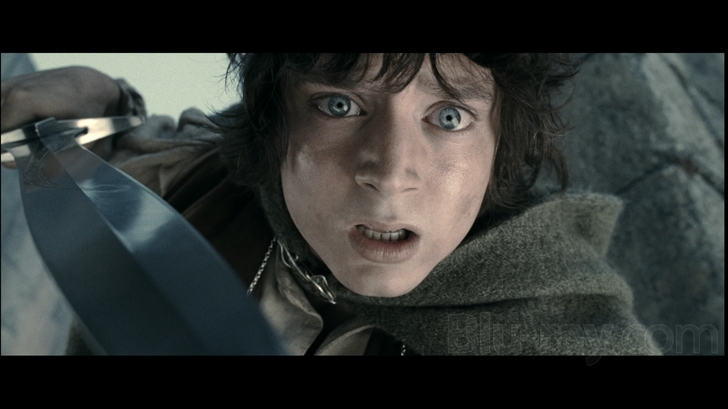 Look to my coming on the first light of the fifth day, at dawn look to the east.
No need to break down each individual release here. Like the 2010 theatrical cut releases, the Extended Editions of
The Fellowship of the Ring
,
The Two Towers
, and
The Return of the King
charge the fields of Blu-ray with a trio of powerful DTS-HD Master Audio surround tracks, all of which allow Jackson's
Lord of the Rings
trilogy to storm every home theater, no matter how grand in scale. Dialogue, whether whispered or shouted, is crisp, clean, and intelligible; voices, whether human, beast or ethereal warrior, ring true across the soundfield; and creature cries, whether spittled roars or high-pitched screeches, are sharp and stable. LFE output deserves a score of its own, aggressively supporting every amassing horde, topping tower, rickety weapon of war and exploding wall the various members of the Fellowship encounter. Close your eyes as Wargs ambush a passing caravan. Listen intently as the trees of Fangorn Forest begin to groan and murmur. Try to lift your jaw off the floor when the Uruk-hai forces charge the soon-to-be-toppled defenses of a fortified keep. Environmental ambience never relents (Treebeard's enveloping realm!), directionality is impeccable (the climactic battle at Helm's Deep!), and pans are smoother than Wormtongue's silver tongue (the volley of arrows that sail over those same walls and rain down on advancing foes). Best of all, the experience is as immersive as they come. Howard Shore's masterful score is perfectly prioritized beneath the film's soundscape, gut punch revelations are as pitch-perfect as they are emotional, restless armies will make viewers turn their heads, and the terrifying clamor of orcs, underwater spirits, Uruk-hai, fell beasts and more will unsettle the most steely listener. And dynamics? Prepare yourself.
The Two Towers
, and really
The Lord of the Rings
trilogy as a whole, is a sonic powerhouse.
Your cart is currently empty