Video
Codec: MPEG-4 MVC
Resolution: 1080p
Aspect ratio: 2.40:1
Original aspect ratio: 2.39:1
Audio
English: DTS-HD Master Audio 7.1 (48kHz, 24-bit)
French: Dolby Digital 5.1 (448 kbps)
Spanish: Dolby Digital 5.1 (448 kbps)
Portuguese: Dolby Digital 5.1

Subtitles
English SDH, French, Portuguese, Spanish

Discs
Blu-ray 3D
Blu-ray Disc
Five-disc set (1 BD-25, 3 BD-50, 1 DVD)
DVD copy

Digital
Digital copy expired
Digital copy included
The Hobbit: An Unexpected Journey 3D
 (2012)
The Hobbit: An Unexpected Journey 3D Blu-ray delivers truly amazing video and audio in this excellent Blu-ray release
A curious Hobbit, Bilbo Baggins, journeys to the Lonely Mountain with a vigorous group of Dwarves to reclaim a treasure stolen from them by the dragon Smaug.
For more about
The Hobbit: An Unexpected Journey 3D
and the The Hobbit: An Unexpected Journey 3D Blu-ray release, see the
The Hobbit: An Unexpected Journey 3D Blu-ray Review
published by Kenneth Brown on March 17, 2013 where this Blu-ray release scored
4.0
out of
5
.
Director:
Peter Jackson
Writers:
Fran Walsh
,
Philippa Boyens
,
Peter Jackson
,
Guillermo del Toro
,
J.R.R. Tolkien
Starring:
Ian McKellen
,
Martin Freeman
,
Richard Armitage
,
Ken Stott
,
Graham McTavish
,
William Kircher
Producer:
Carolynne Cunningham
»
See full cast & crew
The Hobbit: An Unexpected Journey 3D Blu-ray, Video Quality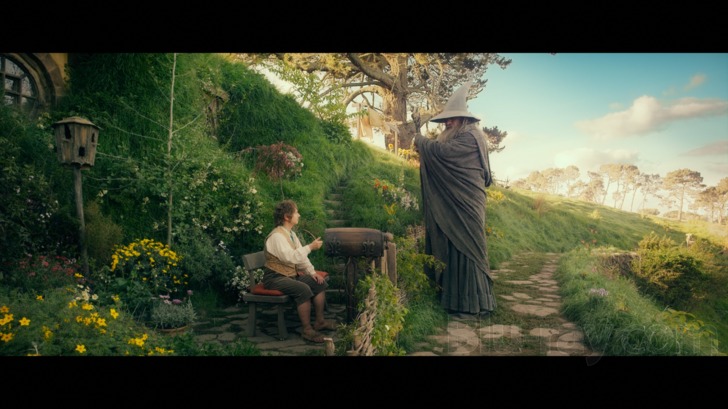 The Blu-ray edition of
The Hobbit
wows, dazzles and thoroughly impresses with two stunning 1080p video transfers: an MVC-encoded 3D experience and an AVC-encoded 2D presentation, each true to Jackson and cinematographer Andrew Lesnie's every intention. But let's focus on the 3D experience, which shares all of the previously reviewed
2D version
's strengths and... well, strengths. Allow me to begin with a small word of warning, though. Jackson is a proponent of world-expanding 3D; the sort of 3D that draws its audience
into
the image rather than assaulting viewers with overabundant gimmicks and screen-puncturing distractions. In the Blu-ray.com forum, the approach has been labeled "conservative 3D," and for the most part, this is conservative 3D. Depth and dimensionality are outstanding, with vast landscapes, convincingly distant horizons, rocks that jut out of the ground, trolls that loom high overhead, wargs whose muzzles inch closer and closer, goblins that push our heroes forward toward a most unsightly, all too three-dimensional Goblin King, and twisted riverfolk who seem to peer out of their cave and into your home theater. The occasional sword, fluttering bird, swinging ax or tumorous sacks of flesh protrude nicely (or not so nicely, depending on the visual), but again, this is by and large a conservative 3D experience.
Not that the impact is lessened in any way. I much prefer inward 3D to outward 3D, whatever the two might be labeled. Inward 3D is more immersive and enveloping, and I find myself less conscious of the particulars of the 3D imagery and more taken by it. This more cinematic 3D translates beautifully to Blu-ray too, without sacrificing the integrity of the native 3D photography or subsequent encode. Moreover, the lush, lovely Shire greens, summer-kissed browns and oranges, moonlit blues pierced by blazing flame, relatively lifelike fleshtones and cavernous blacks that grant its 2D counterpart soul and spirit are intact and unhindered. Impeccable contrast leveling and exceedingly natural shadow delineation certainly help, and the filmmakers' at-times stylized color grading is presented without apparent flaw. Detail is nothing short of extraordinary too. Edge definition is crisp and clean, without any notable ringing, and fine textures are refined and exceptionally rewarding.
3D displays that are prone to ghosting will have difficulty resolving a few shots (most noticeably in long shots of the goblin throne chamber, where tiny torch lights, eager eyes and restless minions are subject to slight crosstalk). As usual, though, any ghosting that pops up is a product of individual 3D displays and glasses, not the 3D encode itself. Moreover, significant aliasing, macroblocking, banding and other issues are absent, and only the slightest hint of noise and negligible crush will give eagle-eyed videophiles pause. Ultimately, Jackson's 3D may not raze your home theater to the ground, but it invites you along on Bilbo's journey, through winding hills, towering forests, massive caverns and beyond. Next stop: 3D Lonely Mountain.
Note: The 3D version of the film is spread generously across two BD-50 discs. The 2D version is then available on a third BD-50 disc, while the special features are housed on a fourth.
The Hobbit: An Unexpected Journey 3D Blu-ray, Audio Quality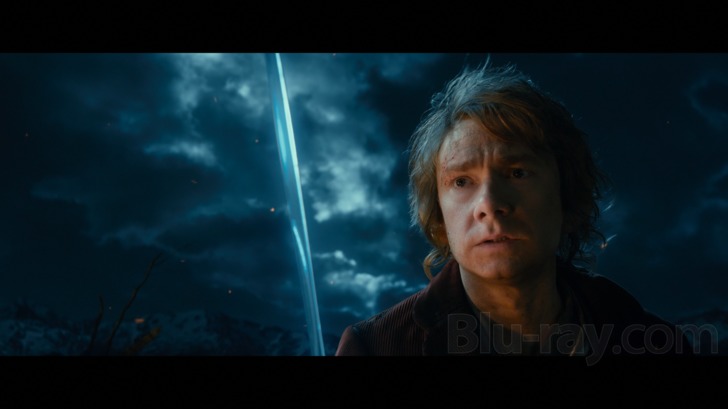 As impressive as Warner's video transfer may be, it's
The Hobbit
's bellowing beast of a DTS-HD Master Audio 7.1 surround track that leaves the most lasting mark. The LFE channel is forceful yet discerning, producing deep, resonant
thoom
s and weighty low-end support. (Albeit not
ideal
support, as some filtering has been reported and confirmed. For my part, it isn't a bother. Others will no doubt disagree.) All the while, the rear speakers bristle with engaging, wonderfully effective activity seasoned with convincing directional effects and transparent cross-channel pans. The resulting soundfield is wholly immersive too, dropping the listener into the heart of Erebor, the cozy hobbit holes of Hobbiton, the vast expanse of the wild, the midst of a thunderous rock giant battle, the chaos of an underground Goblin city and the center of a cave where a certain magic ring slips from its master's pocket and bounces along the ground. Dialogue remains crystal clear and intelligible throughout (without a lost or muffled line to be found), Howard Shore's score is sweeping and full, and prioritization is flawless.
Your cart is currently empty