Video
Codec: MPEG-4 MVC
Resolution: 1080p
Aspect ratio: 2.40:1
Original aspect ratio: 2.39:1
Audio
English: DTS-HD Master Audio 5.1 (48kHz, 24-bit)

Subtitles
English SDH, Spanish

Discs
Blu-ray 3D
Blu-ray Disc
Three-disc set (2 BD-50, 1 DVD)
DVD copy
BD-Live
D-Box
Mobile features

Digital
iTunes
Silent Hill: Revelation 3D
 (2012)
Silent Hill: Revelation 3D Blu-ray offers solid video and superb audio, but overall it's a mediocre Blu-ray release
When her father disappears, Heather Mason is drawn into a strange and terrifying alternate reality that holds answers to the horrific nightmares that have plagued her since childhood.
For more about
Silent Hill: Revelation 3D
and the Silent Hill: Revelation 3D Blu-ray release, see
Silent Hill: Revelation 3D Blu-ray Review
published by Kenneth Brown on February 20, 2013 where this Blu-ray release scored
2.5
out of
5
.
Director:
M.J. Bassett
Writers:
M.J. Bassett
,
Laurent Hadida
Starring:
Adelaide Clemens
,
Kit Harington
,
Carrie-Anne Moss
,
Sean Bean
,
Radha Mitchell
,
Malcolm McDowell
Silent Hill: Revelation 3D Blu-ray, Video Quality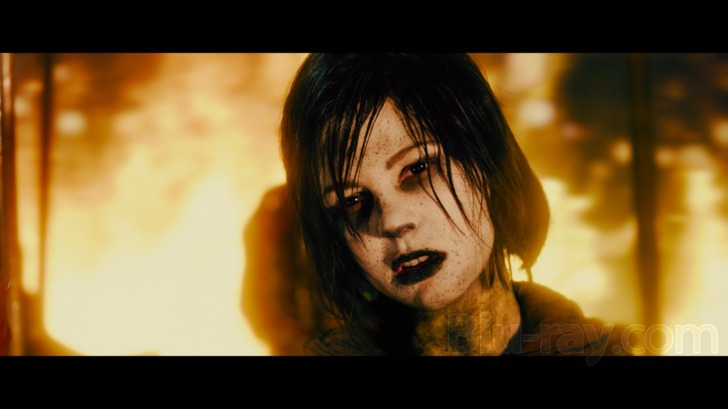 Revelation
scares up two presentations. First, a solid 1080p/AVC-encoded 2D video transfer that, if nothing else, looks the part. It isn't flawless, or even close to ideal -- noise spikes rather violently here and there, skintones are occasionally a bit over-saturated, slight ringing and banding creep in at inopportune times, contrast is inconsistent, shadows are often muddy or muted, and crush wreaks a small but manageable bit of havoc -- but the image soldiers on, and sometimes even impresses. Colors show strength in spite of varying levels of bleakness and grunginess, primaries have visceral pop, reds are particularly pulpy and black levels are appropriately dark and malevolent. Detail is quite good on the whole too (despite an inherent unevenness), with generally clean razor-wire edges and gritty yet revealing textures. Moreover, significant macroblocking, aliasing and other abominations don't make an appearance, meaning many of the presentation's aforementioned faults trace back to the film's original photography and visual effects.
The MVC-encoded 3D experience is a more inconsistent beastie, if only by the very nature of the 3D photography. Muddy, murky and sometimes dreadfully dreary in its second and third acts,
Revelation
boasts some 3D pop and prowess early on, particularly when the lights are high, the fog is low and grimy shadows have yet to press in and consume the image. Once Heather reaches Silent Hill, though -- and, to a limited extent, before that, whenever sinister forces close in on the poor girl -- depth and dimensionality suffer. Gory gimmick shots still deliver decent split-second, screen-jutting jolts, but too many other sequences are either too flat, too dark or both. Noise also seems a bit more unwieldy, and viewers whose displays are prone to crosstalk will notice a fair amount of ghosting haunting the film's more chaotic chase scenes. It's a serviceable 3D presentation, all things considered, and the fact that the film was shot in native 3D is an admitted plus. That said,
Revelation
's rusty horrors and dank passageways don't really lend themselves to 3D, making its 3D Blu-ray release something of an unnecessary evil.
Silent Hill: Revelation 3D Blu-ray, Audio Quality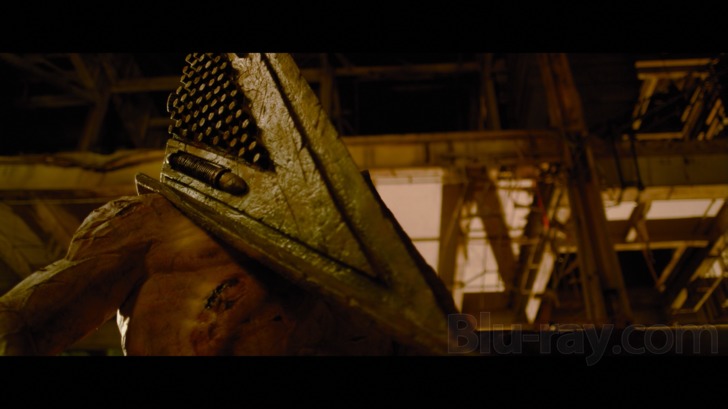 Universal's vicious DTS-HD Master Audio 5.1 surround track is loud and grisly, just as it should be.
Revelation
's sound design is as subtle as its visuals, and yet there's a finesse to its jolting directional effects, aggressive rear speaker activity and eerie cross-channel pans. Low-end output sinks its teeth in as well, throwing the full weight of the LFE channel's wares behind whatever bloody supernatural bedlam Bassett unleashes on screen. All the while, dynamics are excellent, dialogue is well-prioritized and firmly grounded in the nightmarish plane of Silent Hill, and the soundfield is surprisingly immersive, dropping the listener into the midst of the horrors Heather encounters. Ultimately,
Revelation
's lossless mix is the highlight of the release and the one thing just about everyone will agree is up to snuff.
Your cart is currently empty