Video
Codec: VC-1
Resolution: 1080p
Aspect ratio: 1.78:1
Audio
English: Dolby Digital 5.1
English: Dolby Digital 2.0

Subtitles
English, English SDH

Discs
Blu-ray Disc
Single disc (1 BD-25)
Anaglyph 3D
Sea Monsters 3-D
 (2007)


Sea Monsters 3-D Blu-ray delivers great video and solid audio in this enjoyable Blu-ray release

For nearly 200 million years while dinosaurs roamed the Earth, the seas teemed with some of the most awe-inspiring ocean creatures of all time. Sea Monsters, a National Geographic Giant Screen film, is an entertaining journey into prehistoric oceans. Inter-cutting between the animated story and the reenactments of fossil discoveries combine the appeal of "Indiana Jones" with the CGI that brings these prehistoric monsters to life. Perfect for the whole family.


For more about Sea Monsters 3-D and the Sea Monsters 3-D Blu-ray release, see Sea Monsters 3-D Blu-ray Review published by Casey Broadwater on August 15, 2009 where this Blu-ray release scored 3.5 out of 5.
Sea Monsters 3-D Blu-ray, Video Quality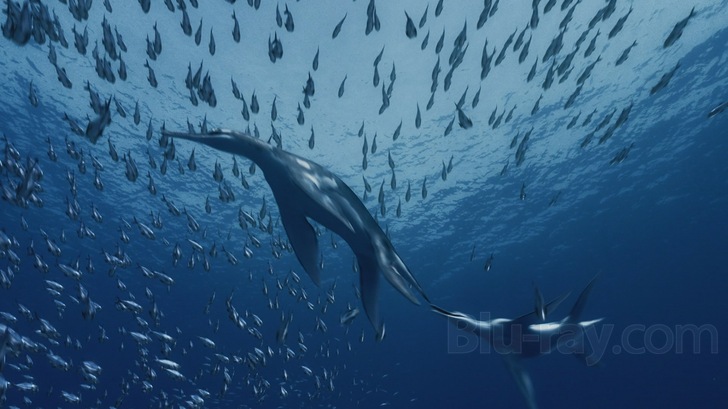 This re-release includes the 2-D and 3-D versions of the film, both receiving 1080p/AVC-encoded transfers. The 2-D version is obviously preferable from a purely video quality perspective, with a crisp, clean IMAX image. Colors are deep and pleasingly saturated—the prevalent blues really shine—and solid black levels give the otherwise 2-D image some vibrant dimensional pop. The film is tack-sharp too, with no cheap tricks like edge enhancement to muddle the look. The sequences shot on film are similarly impressive, featuring that big, bold IMAX look that revels in clarity and resolution, with the thinnest layer of grain to add some warmth to the image. The CGI isn't the most stunning I've seen, but it's all rendered smoothly, with no video hiccups or compression artifacts. It should be noted that the original IMAX aspect ratio has been cropped down to 1.78:1, but this is of little detriment and allows the film to fully fill out your TV.
The 3-D version is expectedly diminished in quality, not due to any fault of the transfer, but simply because the anaglyphic, red and blue glasses rob the image of clarity and color. You'll probably want to bump up the brightness of your display—a disclaimer on the disc recommends "Standard" instead of "Cinema" mode—but the image is never going to look as good as a RealD presentation. You'll notice some blurry double-vision, especially if you sit too close to your display, and much of the vivid color of the 2-D version is muddled and desaturated in three dimensions. I don't expect the target audience to be hardcore videophiles, though, and the 3-D wow factor will be enough to impress most kids.
Sea Monsters 3-D Blu-ray, Audio Quality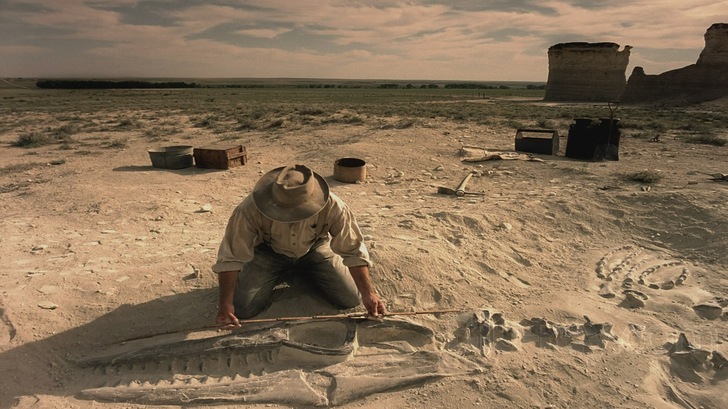 While not as impressive as the film's PQ,
Sea Monsters
' Dolby Digital 5.1 surround track serves its purpose well. Peter Gabriel's score is the most prevalent element of the mix, and it fills every channel with dynamic arrangements and a fairly wide spread between speakers, allowing individual instruments to pop in and out with some interesting directionality. Though there are some bubbles and gurgles in the rears—along with some swooshes and panned swim-bys—most of the ambient audio does seem front-centric. Liev Schreiber's narration is mostly clear and clean, though there are a few instances when the watery sound effects drown him out a bit (har har).
Your cart is currently empty