Red Sparrow 4K
 (2018)
Red Sparrow 4K Blu-ray delivers truly amazing video and audio in this fan-pleasing Blu-ray release

A former ballerina is forced to join Sparrow School, a secret government program that transforms her into an agent who can manipulate, seduce and kill.


For more about Red Sparrow 4K and the Red Sparrow 4K Blu-ray release, see Red Sparrow 4K Blu-ray Review published by Jeffrey Kauffman on May 22, 2018 where this Blu-ray release scored 3.5 out of 5.

Red Sparrow 4K Blu-ray, Video Quality

1080p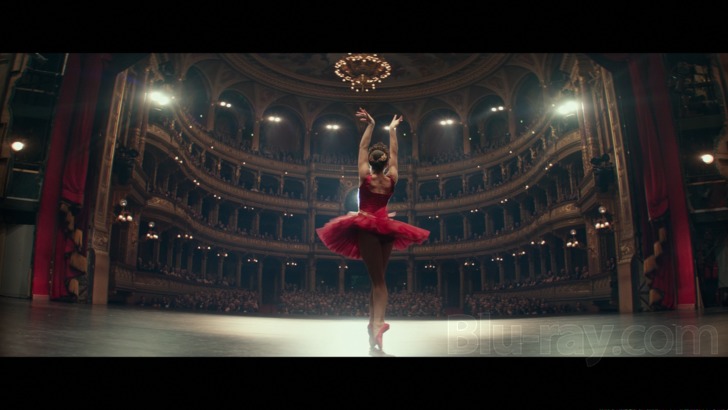 Note:
Screenshots are sourced from the 1080p Blu-ray.
Red Sparrow
is presented on 4K UHD courtesy of 20th Century Fox Home Entertainment with a 2160p transfer in 2.40:1.
Red Sparrow
is a really interesting film to analyze in its 4K presentation, since it perhaps seems to defy the "shiny object" aspect that tends to interest some videophiles. As outlined in our
Red Sparrow Blu-ray review
, the film was shot with a variety of Arri products and finished at a 4K DI, and in terms of overall detail levels, this 4K UHD presentation rarely fails to disappoint. Extreme close-ups of Jennifer Lawrence's face provide ample opportunity to virtually count the number of downy hairs on her cheek, and there are a number of really interesting if at times subtle upticks in clarity and detail levels, as in the wicker chair in Dominika's apartment bedroom, or the woven curtains in her mother's bedroom. Even a number of printed elements that are seen throughout the film are easier to read, and one of the first — the code that Nash deciphers in the film's opening sequence — has an almost palpable sense of the scrap of paper its printed on. That said, the film is almost relentlessly dark a lot of the time, and I personally was a bit surprised that shadow definition wasn't hugely altered in this presentation. The steamroom attack early in the film has arguably slightly better resolution of both the "misty" ambience as well as what's taking place inside it (which is probably intentionally masked some of the time). The intentional design decision to tamp down the palette a lot of the time means that HDR tends to alter things in fits and starts. There's some amazing saturation to be seen in things like the red tones of the opening ballet sequence, and later a red dress that Dominika wears when she's meeting Ustinov, but some of the more interesting nuances come courtesy of overall grading. There are a couple of interior scenes that have a kind of brownish yellow tint that is slightly different than the 1080p version, and the long, orange graded seduction sequence between Dominika and Nash has what I'd almost term a tangerine color in the 4K UHD version.
Red Sparrow 4K Blu-ray, Audio Quality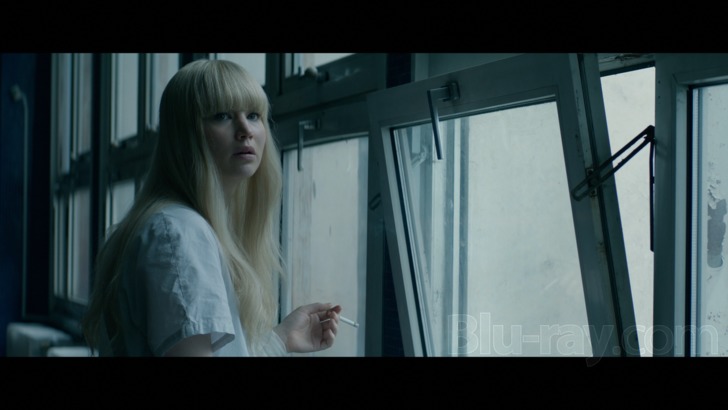 I'm upping my 4.5 score of the 1080p Blu-ray's DTS-HD Master Audio 7.1 track to a 5.0 for this 4K UHD disc's Dolby Atmos track in order to indicate it does in fact provide at least a bit more impact, especially with regard to some of the midair placement of effects, but on the whole this is a somewhat restrained sound design that doesn't consistently engage the Atmos channels, so some audiophiles may want to adjust their expectations accordingly. As with the "standard" 7.1 track on the 1080p Blu-ray, there's really good discrete channelization throughout the film, albeit rather subtly at times, especially in terms of some of the interior dialogue moments that tend to play out only between two characters. James Newton Howard's nice score sounds fantastic in the Atmos rendering.
Note:
As tends to be the case with Fox releases, the audio and subtitle specs are different on the 4K UHD and 1080p Blu-ray discs. The specs above are for the 4K UHD release. Please refer to the linked Blu-ray review for specs on that disc.
Your cart is currently empty