Video


Codec: MPEG-4 AVC
Resolution: 1080p
Aspect ratio: 1.85:1
Original aspect ratio: 1.85:1



Audio




English: DTS-HD Master Audio 5.1
French: DTS 5.1





Subtitles




English SDH, French, Spanish




Discs


Blu-ray Disc
Single disc (1 BD-50)
Bonus View (PiP)
BD-Live
Mobile features
Universal Studios

 

|

 

2004

 

|

 

153 min

 

| Rated PG-13 |

 

Feb 01, 2011
Large:

 













Video


Codec: MPEG-4 AVC
Resolution: 1080p
Aspect ratio: 1.85:1
Original aspect ratio: 1.85:1



Audio




English: DTS-HD Master Audio 5.1
French: DTS 5.1





Subtitles




English SDH, French, Spanish




Discs


Blu-ray Disc
Single disc (1 BD-50)
Bonus View (PiP)
BD-Live
Mobile features



Packaging




Slipcover in original pressing





Playback


2K Blu-ray: Region free




Price


List price: $9.99  





Amazon:

 

$9.99
New from:

 

$9.90

 

(Save 1%)


In Stock.







Movie rating




| | | |
| --- | --- | --- |
| | 7.5 | |

 

295

 ratings.



Blu-ray rating

| | | |
| --- | --- | --- |
| Video | | 4.8 |
| Audio | | 4.5 |
| Extras | | 4.0 |

Based on 1 user review




72%
popularity




Ray
 (2004)
Ray Blu-ray delivers stunning video and audio in this exceptional Blu-ray release
Born in a poor town in Georgia, Ray Charles went blind at the age of seven shortly after witnessing his younger brother's accidental death. Inspired by a fiercely independent mother who insisted he make his own way in the world, Charles found his calling and his gift behind a piano keyboard. Touring across the Southern musical circuit, the soulful singer gained a reputation and then exploded with worldwide fame when he pioneered incorporating gospel, country, jazz and orchestral influences into his inimitable style. As he revolutionized the way people appreciated music, he simultaneously fought segregation in the very clubs that launched him and championed artists' rights within the corporate music business.
For more about
Ray
and the Ray Blu-ray release, see
Ray Blu-ray Review
published by Kenneth Brown on August 1, 2011 where this Blu-ray release scored
4.5
out of
5
.
Director:
Taylor Hackford
Writers:
Taylor Hackford
,
James L. White
Starring:
Jamie Foxx
,
Kerry Washington
,
Regina King
,
Clifton Powell
,
Harry Lennix
,
Bokeem Woodbine
Producer:
Taylor Hackford
Ray Blu-ray, Video Quality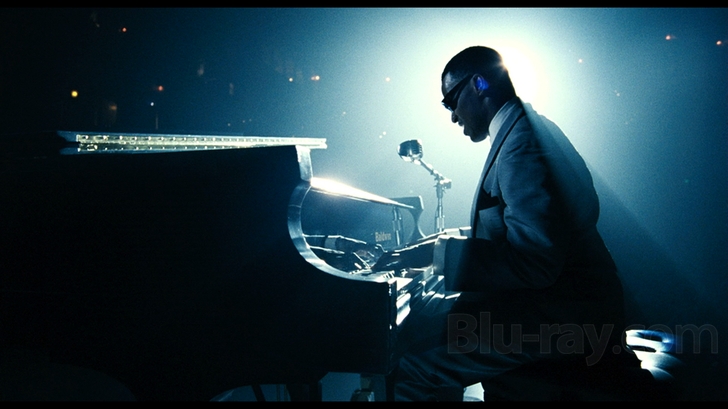 One of the last Universal HD DVD releases to arrive on Blu-ray,
Ray
features a formidable 1080p/AVC-encoded transfer that looks every bit as striking as a biopic of its caliber should. Pawel Edelman's Deep South photography simmers with wonderfully muted, summer-struck primaries, gorgeous sun-baked skintones and satisfying, at-times savory black levels. All the while, detail never falters and rarely disappoints. Even with smoke hanging in the air and aged-newspaper shadows haunting every back alley club, fine textures remain undaunted, closeups are crisp and refined, and edge definition is sharp and clean (without any glaring edge enhancement to report). Filmic grain is apparent from time to time, but hardly intrusive, and errant white specks are the only anomalies worth mentioning (the most noticeable of which appear ever so briefly on Foxx's apron at the 16:40 mark). Artifacting, banding and aliasing never sully the results, ringing is kept to an absolute minimum, and noise reduction and smearing are nowhere to be found. As it stands, I doubt Universal could have done much more.
Ray
isn't just vastly superior to its DVD counterpart, it faithfully renders Hackford and Edelman's every intention and represents one of Universal's finest catalog transfers to date.
Ray Blu-ray, Audio Quality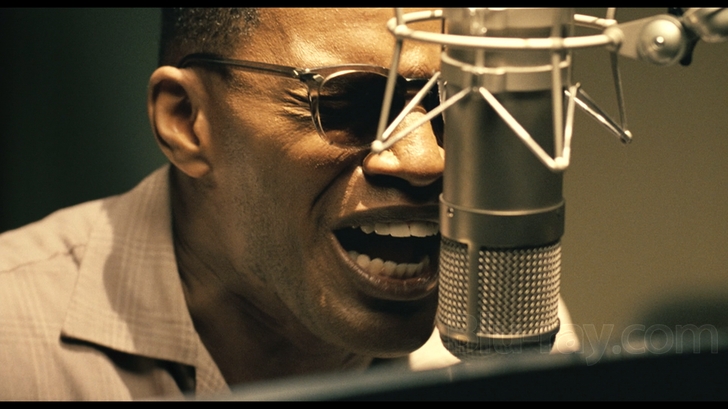 Unless you find a way to visit the Ritz Theater in 1945 or sit in on a Swing Time Records recording session in 1951, the best way to experience the fullness and soulfulness of Ray Charles's music is via Universal's lively DTS-HD Master Audio 5.1 surround track. Whether barking "Mess Around," wailing "Drown in My Own Tears" or crying "I Can't Stop Loving You," his baritone barbs punch through the soundscape, rising above the rich, rowdy roar of his piano and mingling above the bluesy madness of his most spirited songs. But it isn't just his singing voice that receives top-tier treatment. Everything from his band to the clubs he plays in to the chatter of an ecstatic crowd is given its proper due, wrapping the listener in the chaos of Charles's surging celebrity. The LFE channel grabs hold of every bass line and tantrum, lending weight and presence to each dramatic turn in the singer's life. The rear speakers aren't as aggressive as I expected, but there's an ease and effortlessness to their subtlety that showcases the immersive properties of the film's ambience and the nuance of its original sound design. Cross-channel pans are smooth and convincing, directionality is accurate and effective, and the soundfield is enveloping, regardless of how quiet, solemn or frenzied a scene becomes. Moreover, dialogue is clear, natural and neatly prioritized throughout, and only a handful of lesser lines struggle to be heard. It's an absorbing experience to say the least; one sure to envelop and engage audiophiles, casual filmfans and students of Charles's music alike.
Your cart is currently empty