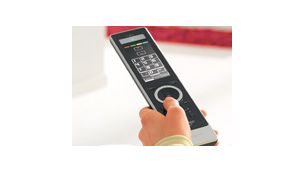 Control multiple devices with a single touch
One-touch control allows you to perform multiple commands with one press of a button via a macro. A macro combines a string of pre-programmed commands under one single button. Therefore, it simply takes one button press to execute a series of functions.
8 in1 controller for all home entertainment equipment
The universal remote control allows you to program and operate up to 8 devices from almost any brand.
Extensive infrared code database for most devices & brands
A universal IR code database refers to a library of infrared codes built-in to a particular remote. This feature allows a remote to control your equipment without needing to learn individual signals. Select the correct infrared code sets in the database for the devices you want to control, to enable control of virtually every audio/video system element on the market today – regardless of model or brand.
Shows only the keys you need on the touch-sensitive display
Through the special inverted segmented display technology, only those keys are lit up that are needed to control a specific device. No need to look for the right buttons anymore.
Easy access to advanced commands via interactive LCD display
The interactive LCD is a 4-line dot matrix LCD display that guides you through the settings, as well as the different devices.
LCD screen with backlighting for convenience in the dark
Backlighting is a feature that illuminates the LCD screen or keypad for use in the dark. The two most common types of backlighting include LED and electroluminescent (EL). Remotes backlit with LEDs are typically bright but uneven with a yellow or green color, while EL panels are smooth with blue, white or green shades.
Rotary cursor control for fast menu navigation
A cursor incorporating a rotary wheel enables you to navigate through the setup menu and the device pages, in both clockwise and counter-clockwise directions.
No manual needed for setup
Unlike other universal remote controls, where a 3-digit code needs to be input to identify a brand and device, this remote incorporates on-device step-by-step instructions to setup your equipment, regardless of brand.
Convenient IR learning from another remote
Learning functionality refers to the process through which a remote control captures and stores infrared signals from other remotes for later use. When device codes are not included in the on-board database, they can always be learned from the original remote, simply by pointing to it.
Technical Specifications
Convenience

Supported devices

Scrollwheel

Backlight

Backlight color

On-Screen Display languages
Infrared Capabilities
Operating distance

Learning IR codes

Transmitting LEDs

Number of brands in database

Carrier frequency range
Power
Battery saving manager

Battery type

Number of batteries
Awards
Your cart is currently empty