Video
Codec: MPEG-2
Resolution: 1080p
Aspect ratio: 2.41:1
Original aspect ratio: 2.39:1
Audio
English: Dolby Digital 5.1
French: Dolby Digital 5.1
Spanish: Dolby Digital 5.1

Subtitles
English, English SDH, French, Spanish

Discs
Blu-ray Disc
Single disc (1 BD-25)
Mission: Impossible II
 (2000)


Mission: Impossible II Blu-ray offers solid video and audio in this enjoyable Blu-ray release

With the support of his team at his side, agent Ethan Hunt must race across Australia and Spain to stop a former IMF agent from unleashing a genetically engineered biological weapon called Chimera.


For more about Mission: Impossible II and the Mission: Impossible II Blu-ray release, see Mission: Impossible II Blu-ray Review published by Martin Liebman on March 18, 2009 where this Blu-ray release scored 3.0 out of 5.

Director: John Woo
Writers: Bruce Geller, Ronald D. Moore, Brannon Braga, Robert Towne
Starring: Tom Cruise, Dougray Scott, Thandie Newton, Ving Rhames, Richard Roxburgh, John Polson
Producer: Tom Cruise
Mission: Impossible II Blu-ray, Video Quality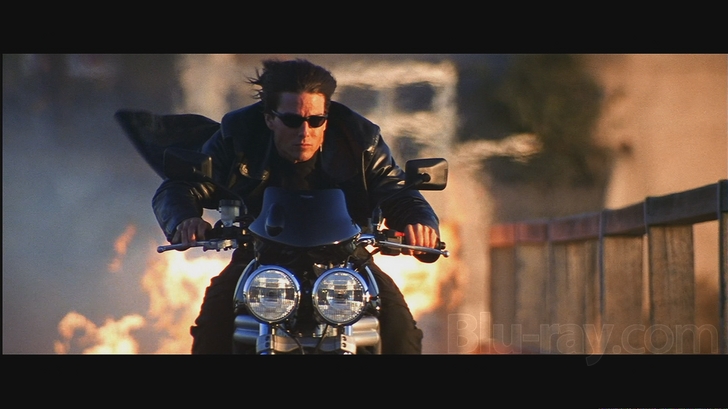 Mission: Impossible II
comes to Blu-ray with an MPEG-2 encoded 1080p transfer framed in its original 2.35:1 theatrical aspect ratio. The most striking aspect of this transfer is its level of detail that is far superior to that seen in this film's predecessor on Blu-ray disc. Up-close shots of human faces, for example, reveal fine textures and nuances that seem dull in
Mission: Impossible
. Colors are more vibrant and pleasing in this outing as well. The print is fairly grainy and noisy in spots, but does not see the abundance of speckles that were prevalent on the previous disc. However, a hint of edge enhancement is to be seen in places. Blacks occasionally take on a dark shade of blue in many shots with a slight bit of pixelation in some of the darker corners of the screen. Flesh tones also fluctuate in the film, ranging from a nice natural shade to featuring a slightly red tint. Overall,
Mission: Impossible II
offers a sharper, more pronounced image than its predecessor on Blu-ray, but it is not without its own set of drawbacks.
Mission: Impossible II Blu-ray, Audio Quality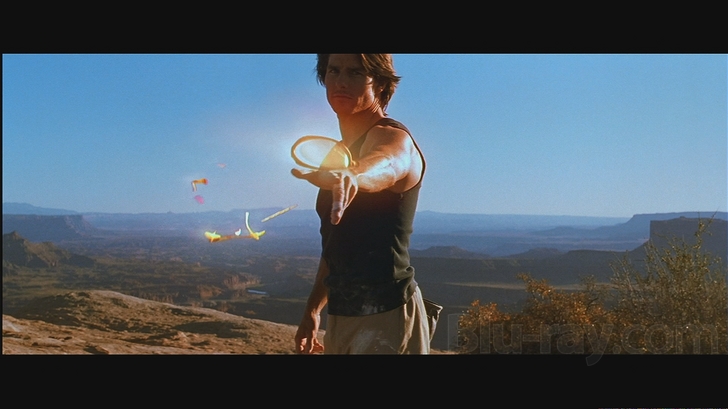 Once again, Paramount brings a
Mission: Impossible
film to Blu-ray with no lossless audio option.
M:I II
offers a more pronounced and efficient track than that which was heard in the previous film's Blu-ray presentation. It's generally explosive and a well above-average effort in the world of lossy soundtracks on Blu-ray. The track is often dynamic, with excellent directional effects and atmosphere, those of both a subdued and aggressive nature. Quieter scenes offer impressive atmospherics; the subtle rolling waves as heard briefly in chapter eight help to create what seems like a virtual environment that places the listener in the midst of the locale. Bass is more robust and satisfying both in the presentation of the music and hard-hitting sound effects. Of course, as a more action-oriented film,
M:I II
features plenty of more opportunities to sparkle, and it rarely disappoints during shootouts and vehicle chases. While not quite as robust and clear as such scenes may have been with a lossless presentation, they are generally engaging and exciting. Furniture often rattles and gunfire erupts with a nice bit of punch throughout. Dialogue discernment is never a problem.
M:I II
delivers a fairly good listen, all things considered.
Your cart is currently empty