Video


Codec: MPEG-2
Resolution: 1080p
Aspect ratio: 2.41:1
Original aspect ratio: 2.39:1



Audio




English: Dolby Digital 5.1 (640 kbps)
French: Dolby Digital 5.1 (640 kbps)
Spanish: Dolby Digital 5.1 (640 kbps)





Subtitles




English, English SDH, French, Spanish




Discs


Blu-ray Disc
Single disc (1 BD-25)
Mission: Impossible
 (1996)
Mission: Impossible Blu-ray features mediocre video and audio in this still enjoyable Blu-ray release

When Ethan Hunt, the leader of a crack espionage team whose perilous operation has gone awry with no explanation, discovers that a mole has penetrated the CIA, he's surprised to learn that he's the prime suspect. In order to clear his name, Hunt now must ferret out the real double agent and, in the process, even the score.


For more about Mission: Impossible and the Mission: Impossible Blu-ray release, see Mission: Impossible Blu-ray Review published by Martin Liebman on March 18, 2009 where this Blu-ray release scored 3.0 out of 5.

Director: Brian De Palma
Writers: Bruce Geller, David Koepp, Steven Zaillian, Robert Towne
Starring: Tom Cruise, Jon Voight, Emmanuelle Béart, Henry Czerny, Jean Reno, Ving Rhames
Producer: Tom Cruise
Mission: Impossible Blu-ray, Video Quality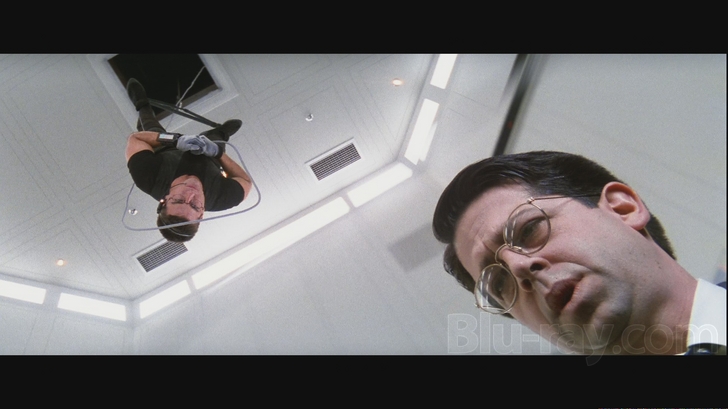 Mission: Impossible
comes to Blu-ray with a 1080p, MPEG-2 encoded transfer framed in its original 2.35:1 aspect ratio. The picture quality is rather uninspiring from most every angle, with only an average amount of fine detail, mediocre color reproduction, and little-to-no 3-D "pop." Much of the finer details of the film seem lacking, not necessarily scrubbed away but certainly not offering the lifelike imagery of the best high definition transfers. Still, there is a nice cinematic look to the presentation; a bit of grain is seen over the entirety of the image. Also, plenty of black and white speckles appear over the print throughout the course of the film. Colors are slightly dim and flesh tones tend towards the red side of the spectrum in some scenes, appear normal in others, and in still others appear somewhat pale. Much of the image is soft, which seems to be a culprit in the absence of the finer details. Blacks are decent, and some of the film's intentionally hazy and foggy scenes don't feature any bothersome pixelation.
Mission: Impossible
easily falls into the lower tier of Blu-ray releases, offering acceptable-at-best high definition imagery.
Mission: Impossible Blu-ray, Audio Quality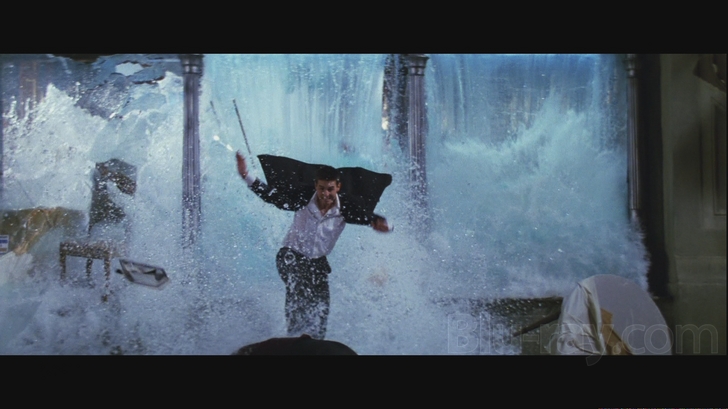 Mission: Impossible
fails to intrigue with its rather pedestrian Dolby Digital 5.1 soundtrack.
Mission: Impossible
's famed opening theme plays nicely over the credits but doesn't create a sense of a live performance; it's strong and acceptable for a lossy mix, though no doubt a lossless offering would have benefited this and other aspects of the track. Oddly enough, one of the finest moments of the soundtrack comes in chapter eight as Hunt breaks into the heavily protected computer room. The near-silence of the sequence, punctuated by the faintest of hums of the running equipment in the room, makes for a fascinating listen, a rarity in any movie to feature an extended quiet period. On the opposite end of the spectrum are a few pronounced effects, such as explosions, but most lack the power and oomph that may have elevated the track above the level of "bland." Save for a few moments of percussion-heavy music that creates a nice bit of thumping in the track and the film's climax, there is not much to become excited about. The chase atop a speeding train is easily the highlight. Sound travels effortlessly across the soundstage, generally from front to back, with a fine level of authority and realism; listeners may practically feel the chill of the rushing air is it seemingly blows past. Considering it accompanies the film's one true, extended action sequence, it's presentation, sonically, is befitting the moment. Dialogue reproduction is sufficient throughout. All in all,
Mission: Impossible
is mostly bland from a sonic perspective.
Your cart is currently empty