Video


Codec: MPEG-4 AVC (23.92 Mbps)
Resolution: 1080p
Aspect ratio: 2.34:1
Original aspect ratio: 2.39:1



Audio




English: LPCM 5.1 (48kHz, 16-bit)
English: Dolby Digital 5.1 (640 kbps)
French: Dolby Digital 5.1 (640 kbps)
Spanish: Dolby Digital 5.1 (640 kbps)





Subtitles




English SDH, French, Spanish




Discs


Blu-ray Disc
Single disc (1 BD-50
Director's Cut
Disney / Buena Vista

 

|

 

2004

 

|

 

141 min

 

| Unrated |

 

Apr 03, 2007
Large:

 













Video


Codec: MPEG-4 AVC (23.92 Mbps)
Resolution: 1080p
Aspect ratio: 2.34:1
Original aspect ratio: 2.39:1



Audio




English: LPCM 5.1 (48kHz, 16-bit)
English: Dolby Digital 5.1 (640 kbps)
French: Dolby Digital 5.1 (640 kbps)
Spanish: Dolby Digital 5.1 (640 kbps)





Subtitles




English SDH, French, Spanish




Discs


Blu-ray Disc
Single disc (1 BD-50)



Playback


2K Blu-ray: Region A

 

(locked)






Price


List price:

 

$20.00


New from:

 

$10.31

 

(Save 48%)
Used from:

 

$4.00

 

(Save 80%)


Buy new from Amazon marketplace







Price


Buy on:



Movie rating




| | | |
| --- | --- | --- |
| | 6.5 | |

 

376

 ratings.



Blu-ray rating

| | | |
| --- | --- | --- |
| Video | | 3.5 |
| Audio | | 4.0 |
| Extras | | 2.6 |

Based on 24 user reviews




93%
popularity




King Arthur
 (2004)
King Arthur Blu-ray offers decent video and great audio in this fan-pleasing Blu-ray release
Historians have thought for centuries that King Arthur was only a myth, but the legend was based on a real hero, torn between his private ambitions and his public sense of duty. A reluctant leader, Arthur wishes only to leave Britain and return to the peace and stability of Rome. Before he can head for Rome, one final mission leads him and his Knights of the Round Table, Lancelot, Galahad, Bors, Tristan, and Gawain to the conclusion that when Rome is gone, Britain needs a king — someone not only to defend against the current threat of invading Saxons, but to lead the isle into a new age. Under the guidance of Merlin, a former enemy, and the beautiful, courageous Guinevere by his side, Arthur will have to find the strength within himself to change the course of history.
For more about
King Arthur
and the King Arthur Blu-ray release, see
King Arthur Blu-ray Review
published by Ben Williams on September 17, 2007 where this Blu-ray release scored
3.5
out of
5
.
Director:
Antoine Fuqua
Writers:
David Franzoni
,
John Lee Hancock
Starring:
Clive Owen
,
Keira Knightley
,
Ioan Gruffudd
,
Mads Mikkelsen
,
Joel Edgerton
,
Hugh Dancy
Producer:
Jerry Bruckheimer
King Arthur Blu-ray, Video Quality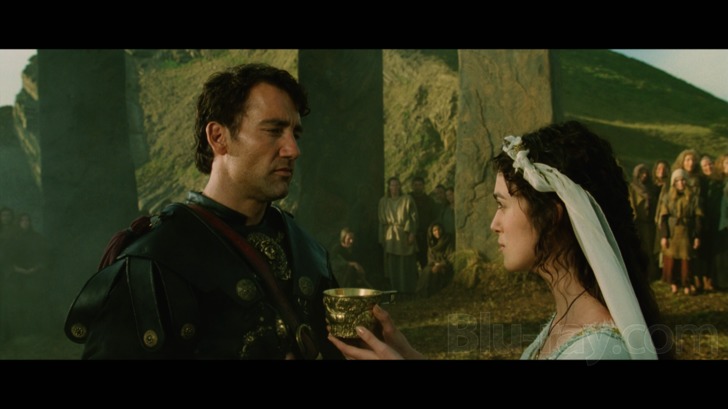 I'm really shocked at this video presentation. Multiple compression issues were very apparent in the transfer as I viewed
King Arthur: Director's Cut
, and I can't help but think that something went horribly wrong during the transfer process. First of all, I can't comment on how this film looked theatrically, as I didn't see it in the theater. I can say, however, that I seriously doubt that the extreme amount of banding that was present during the film's many foggy scenes was intentional. Colors seemed way overblown throughout the entire film. Green fields, in particular, just seemed to almost bloom right off of the screen as though the color settings on both of my displays had been maxed out. As a result of these oversaturated colors, detail seems to suffer throughout. I can accept that the overblown colors and lack of detail could very well be intentional on the part of the filmmakers. I can't, however, accept that they intended to add banding into the mix as well. This was one of Disney's first AVC encodes, and things have improved dramatically since this film was released. In the end, this transfer inspired me to question everything from my picture settings on my displays to the possibility that my Blu-ray player was on the fritz. Fortunately for my wallet, this is just a poor transfer and a rare one from Disney at that.
King Arthur Blu-ray, Audio Quality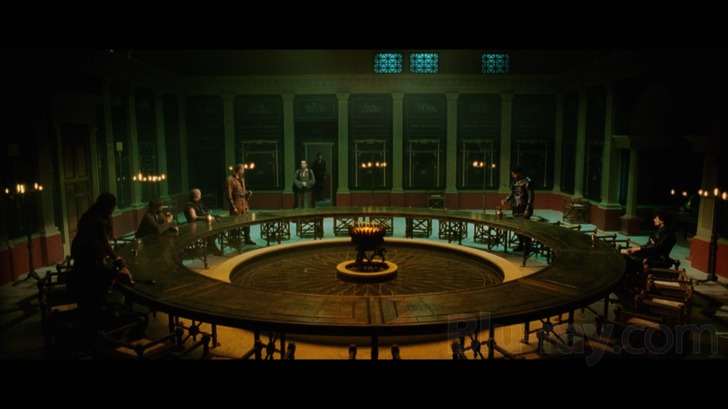 In striking contrast to the video presentation of
King Arthur: Director's Cut
, the audio side of things is quite strong. Uncompressed PCM 5.1 is again the sound format of choice from Disney. As with their other PCM releases, the sound, in direct comparison between the PCM track and the DD 5.1 track, absolutely leaps to life with PCM. The soundstage immediately opens up and there is an incredible sense of depth and ambience. Surround usage is impressive and highly immersive. Deep bass is also well represented here with an abundance of LFE effects that add to the impact of the film's numberous action sequences. If I could level one complaint at this sound presentation, it would be regarding dialogue. I found that I was having to occasionally back the disc up to try to make out what was being said. Muddy dialogue is pretty hard to forgive in plot driven movies - - especially with all of the technology available to repair these kinds of problems.
Your cart is currently empty