How to Train Your Dragon 2 4K
 (2014)
How to Train Your Dragon 2 4K Blu-ray delivers stunningly beautiful video and great audio in this exceptional Blu-ray release

It's been five years since Hiccup and Toothless successfully united dragons and vikings on the island of Berk. While Astrid, Snotlout and the rest of the gang are challenging each other to dragon races (the island's new favorite contact sport), the now inseparable pair journey through the skies, charting unmapped territories and exploring new worlds. When one of their adventures leads to the discovery of a secret ice cave that is home to hundreds of new wild dragons and the mysterious Dragon Rider, the two friends find themselves at the center of a battle to protect the peace. Now, Hiccup and Toothless must unite to stand up for what they believe while recognizing that only together do they have the power to change the future of both men and dragons.


For more about How to Train Your Dragon 2 4K and the How to Train Your Dragon 2 4K Blu-ray release, see How to Train Your Dragon 2 4K Blu-ray Review published by Martin Liebman on February 19, 2019 where this Blu-ray release scored 4.5 out of 5.

Director: Dean DeBlois
Writers: Dean DeBlois, Cressida Cowell
How to Train Your Dragon 2 4K Blu-ray, Video Quality

1080p

The included screenshots are sourced from a 1080p Blu-ray disc. Watch for 4K screenshots at a later date.The included screenshots are sourced from a 1080p Blu-ray disc. Watch for 4K screenshots at a later date.How to Train Your Dragon 2
makes the leap to the UHD format to spectacular result. The presentation is gorgeous, with the HDR color solidifying the image far more so than any textural gains over the Blu-ray. The color palette is brilliant, and that the movie has such a rich and diverse color scheme in its visual arsenal makes the end result even more satisfying. Dull gray rocks and somewhat bland, bleak overcast skies above Berk in the beginning scene deliver perfectly saturated and realistically nuanced shades. Toothless is a black dragon that presents with incredible, inky depth while maintaining clearly visible leathery details, both of which are improved over the 1080p image. Of course it's the more vibrant portions of the palette that are most obviously striking. Various colors on dragons -- reds, yellows, greens, and so on -- are amongst the highlights seen throughout the film, because there are certainly no shortage of vibrantly colored creatures on display. Hiccup's "fire sword" offers significant depth and intensity when it's seen in chapter six, as does the aqua/teal colored ice seen in the same scene and prominently in several other scenes throughout. One of the best HDR displays comes chapter 11, in a dark cave, when several dragons light fires in their mouths, creating a beautiful display of HDR sizzle as the bright, bold reds stand out against terrifically defined blacks.
As far as textural increases go, one can only talk of small degrees rather than large, sweeping improvements. There's little in terms of raw, obvious textural leaps, with some of the most obvious examples of the most intricately detailed components in the film -- Toothless' leathery body, Hiccups' armor -- not revealing a massive overhaul in terms of visual complexity and clarity. The HDR color depth certainly helps bring out a more stabilized appearance, but the resolution proper just doesn't manage to wring out anything of major significance. Fortunately, the HDR improvements prove enough of an increase -- obvious even without performing a proper comparison but just as impressive when doing so -- to carry the presentation to success. A few light stumbling blocks do creep in, though. A hint of banding appears at the 29-minute mark during an underwater scene, and in several other moments throughout the film as well. Several small examples of aliasing creep in during the presentation, too. But the image soars under the new and improved colors, and the movie is one that the added pop really helps solidify the image and make a great movie all the more satisfying on a visual level.
How to Train Your Dragon 2 4K Blu-ray, Audio Quality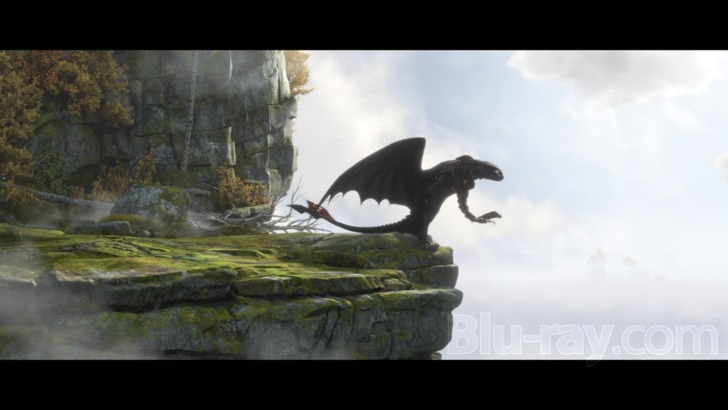 Much like the new DTS:X soundtrack for
How to Train Your Dragon
's UHD, the one accompanying
How to Train Your Dragon 2
delivers a well-rounded listen but one that comes up a little bit short of perfection. The track's most glaring weakness is its unwillingness to deliver a more commanding low end presence. There's just not a lot of room-rattling depth, not the sort of high intensity subwoofer yield one might expect, particularly in a movie with so much action, so many explosions, shattering ice, bellicose dragons, and so on and so forth. The low end is not missing, it's just not amazing. Otherwise, the track is very enjoyable. The entire stage is utilized in the pursuit of sonic excellence, with sweeping and swooping dragons flowing through, and above, the listening area, from film's open to film's close. While the low end, as noted, struggles to bring forth a commanding presence, there are several times when dragons power through the stage with some degree of tangible heft, so that the movement is not just about position but also about weight. Dragon movement sometimes extends to the top layer as well, but the track restrains itself from exploring the top end with too many discrete effects. It's mostly used in harmonious, seamless support for action and music alike, both of which present with enthusiastic definition and perfect stage immersion. Dialogue delivery is clear and well prioritized with a firm front-center placement.
Your cart is currently empty