Big Trouble in Little China Blu-ray, Video Quality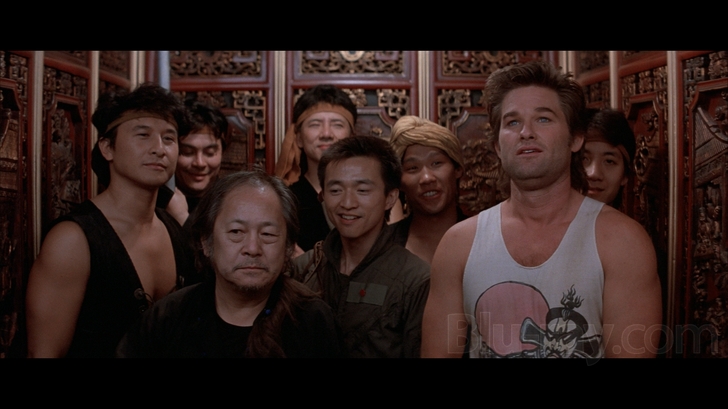 Big Trouble in Little China
dishes up a nice-looking 1080p transfer of a film that's about a quarter-century old. This 2.35:1-framed transfer offers viewers the opportunity to see John Carpenter's film with unparalleled clarity that easily surpasses its previously-released home video counterparts. Though certainly not dazzling eye candy like
The International
,
Big Trouble in Little China
occasionally looks a bit rough around the edges but is otherwise presented on Blu-ray with an overall satisfactory appearance. Lo Pan's makeup and costumed attire make up the bulk of the flashy colors to be found throughout. The overall color palette is not one that's meant to pop off the screen with a dazzling array of hues, but what is here tends to look rather good. Detail appears as above average throughout; matching the theme of the transfer as a whole, there's nothing here that's truly worth noting, but the Blu-ray is consistent in its delivery of a stable, good-looking 100 minutes worth of high definition goodness. Some viewers may be put off by a layer of grain that spikes heavily at times but often remains fairly unobtrusive. Blacks aren't too problematic, and flesh tones appear as a fairly neutral shade throughout.
Big Trouble in Little China
won't win the award for best looking Blu-ray of 2009, but fans should be more than pleased with 20th Century Fox's presentation.
Big Trouble in Little China Blu-ray, Audio Quality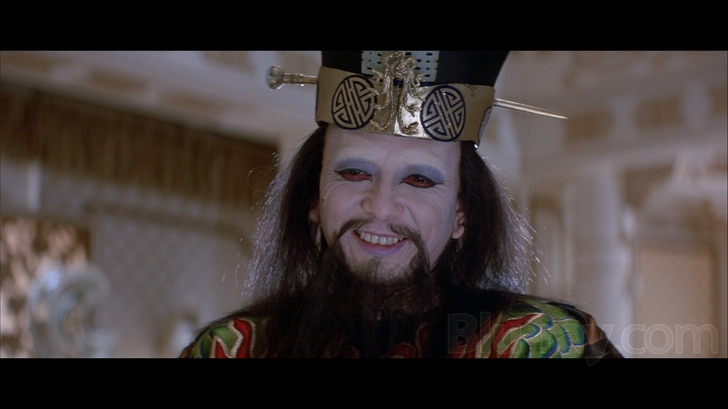 Big Trouble in Little China
features the usual DTS-HD MA 5.1 lossless soundtrack from 20th Century Fox. Though not a demo-worthy soundtrack, this one impresses greatly in context and livens up considerably once the film's action gets underway. Music sounds rather full but is generally limited to the front; it plays clearly enough though it definitely doesn't match the lifelike clarity of the best lossless soundtracks available. Sound effects tend to fill up the front half of the soundstage and move nicely from side to side. The barrage of gunfire in chapter eight sounds loud and distinct, with shots seeming to emanate from each of the front three speakers. The back channels don't get in on the fun in every scene, but the occasional discrete effect and supportive ambience define their role in this track. Generally speaking, though, the front speakers carry the bulk of the material. Bass checks in on occasion to spruce things up; a rather powerful outburst in chapter 13 is representative of the lows scattered about the soundtrack. Much like the video presentation,
Big Trouble in Little China
's lossless soundtrack is not going to go down as one of the best of the year, but it's an above-average effort that should satisfy the discriminating listener and longtime fan of the film.
Video
Codec: MPEG-4 AVC (27.81 Mbps)
Resolution: 1080p
Aspect ratio: 2.36:1
Original aspect ratio: 2.39:1

Audio

English: DTS-HD Master Audio 5.1 (48kHz, 24-bit)
Music: DTS-HD Master Audio 5.1
Russian: DTS 5.1
French: Dolby Digital 5.1
Portuguese: Dolby Digital 5.1
Spanish: Dolby Digital 5.1
English: Dolby Digital 2.0
Thai: Dolby Digital 2.0
Subtitles
English SDH, Portuguese, Spanish, Cantonese, Korean, Mandarin (Traditional), Russian, Thai
Discs
Blu-ray Disc
Single disc (1 BD-50)
D-Box
Playback
Region free
Your cart is currently empty