Video


Codec: MPEG-4 MVC (41.52 Mbps)
Resolution: 1080p
Aspect ratio: 2.40:1
Original aspect ratio: 2.39:1



Audio




English: DTS-HD Master Audio 5.1 (48kHz, 24-bit)
French: Dolby Digital 5.1 (640 kbps)
Spanish: Dolby Digital 5.1 (640 kbps)





Subtitles




English SDH, French, Spanish
A Christmas Carol 3D
 (2009)
A Christmas Carol 3D Blu-ray delivers stunning video and audio in this exceptional Blu-ray release
Ebenezer Scrooge begins the Christmas holiday with his usual miserly contempt, barking at his faithful clerk and his cheery nephew. But when the ghosts of Christmas Past, Present and Yet to Come take him on an eye- opening journey revealing truths Old Scrooge is reluctant to face, he must open his heart to undo years of ill will before it's too late.
For more about 
A Christmas Carol 3D
 and the A Christmas Carol 3D Blu-ray release, see 
A Christmas Carol 3D Blu-ray Review
 published by Martin Liebman on November 15, 2010 where this Blu-ray release scored 
4.5
 out of 
5
.
A Christmas Carol 3D Blu-ray, Video Quality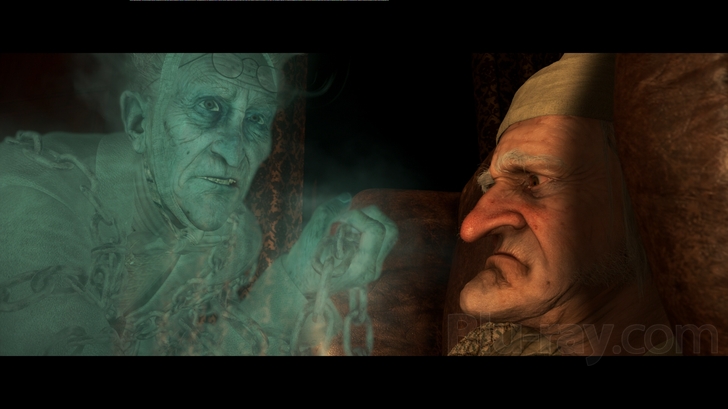 3D Transfer
Rating: 4.5/5A Christmas Carol 3D
features a wonderful full HD 3D Blu-ray presentation that's pushed its way towards the top of the currently-available 3D titles. The picture satisfies on several levels, not the least of which is its faultless detailing. Although much of the film takes place in darkened or shadowy locales, black crush is never a problem, and fine details are free to strut their stuff with a precision that's undeniably Blu-ray. Few, if any, transfers have achieved this level of excellence in terms of sheer detailing; whether Ebenezer Scrooge's heavily wrinkled skin, the texture of an old leather chair that's nestled the old curmudgeon by his fireplace for what had probably been decades, the impeccable "reach-out-and-touch-it" surface of various brick façades, or even the finest ridges on a sheet of paper seen in one extreme close-up shot early in the film, there's no shortage of immaculate detailing to be seen throughout the film. Bright and cheery colors are limited to a few scenes; most of the film works through shades of gray, white, brown, and, of course, the overlying darkness that permeates much of the experience, but the film's several more front-and-center colors -- particularly the blue shading of the ghost of Scrooge's old business associate Jacob Marley -- stand out nicely and evenly, particularly when seen against dark backgrounds or during those few brighter shots that immediately stand apart from the film's generally bleak visual structure. The image appears free of any troublesome anomalies, save for very light banding seen around the glow atop the Ghost of Christmas Past. This 3D transfer's general attributes impress a great deal, and they're matched by the marvelous and practically faultless accompanying 3D elements.
Despite a few instances of "ghosting" or "crosstalk" that sees objects outlined by a transparent mirror image of themselves, a phenomena that has in some way and to some varying degree plagued most every 3D Blu-ray release to date,
A Christmas Carol 3D
delivers an otherwise seamless and generally breathtaking 3D image. The ghosting issues are apparent every now and then -- beginning with a few red berries adorning a green Christmas wreath and appearing intermittently throughout the film with only one or two instances where the effect is even moderately severe -- but never prove a distraction to the overall 3D presentation. Better yet, the picture never breaks down during several fast-motion sequences where much of the screen is in a state of flux; the 3D imagery holds form and delivers a consistently glorious image, no matter whether the camera is lingering on an extended steady shot or covering a fast-paced flyover of the city. The image delivers plenty of perceptible depth as the camera traverses down a narrow London street and as it passes overheard in a rooftop-grazing flyover sequence early in the film. Locales both interior and exterior seem to stretch on to their physical limits, be they across a room or across town. Several objects seem to protrude from the screen, particularly seen when characters point towards the camera, their fingers and arms seemingly extending beyond the panel and into the living room. Disney's disc also handles snowflakes extraordinarily well; they seem to float on by at various distances and, in some cases, on past the screen. The transfer's best attribute, however, comes in the way it handles the ghost of old man Marley; it would seem a great challenge for 3D to give dimension to a deliberately transparent entity, and that's exactly what it does. The result is what is probably the best and most interesting imagery yet found on a 3D release, and there's nary a hint of any sort of problem associated with it. Disney's 3D transfer is a thing of beauty and is currently the definitive wide-release Blu-ray 3D transfer.
Please note that 2D playback on this 3D disc has been disabled; to see the 2D image, viewers are forced to play the included 2D-only Blu-ray disc.
2D Transfer
Rating: 5/5
Disney's 2D transfer is every bit as amazing as the accompanying 3D image. The higher score is in no way related to the 3D transfer; it's judged on its own merits and considering the 2D image has less criteria to analyze, it is absent those few bugaboos that dragged down the 3D score by the slightest of margins. This standard 2D image is exemplary from start to finish. Although much of the film is cold, gray, and dark, fine details abound, showing off the incredible work of the film's digital artists who have created characters and locations that look remarkably real, right down to the finest nuances in faces that show freckles, wrinkles, pores, and even rosy red cheeks that are a result of the chilled London air. London exteriors and the various interiors seen throughout the film also deliver impeccable texturing on brick façades and wooden accents, whether those cheery and snowy outdoor scenes or the palest of interiors lit only by candles inside and the faint glow of moonlight out the window. Colors are fantastic; they're heavily affected by the presence or absence of light, but the transfer handles every hue -- whether pale skin, gray nighttime exteriors, the orange and red glow of a burning fire, the mahogany walls and doors of Scrooge's home, or the bright blue/green glow of the ghost of Scrooge's deceased partner -- with incredible precision. Blacks are impeccably true and perfectly balanced in every scene. Depth is quite strong, too, though obviously limited by the 2D elements and not nearly as mesmerizing as what's to be seen on the 3D transfer, but nevertheless exquisite for a traditional image. Of course, the image is immaculately clean and sharp, no doubt a perfect copy straight off the hard drive. Banding is kept to a bare minimum, and there are no other anomalies to report.
A Christmas Carol
is sheer digital bliss and quite possibly the year's finest transfer.
A Christmas Carol 3D Blu-ray, Audio Quality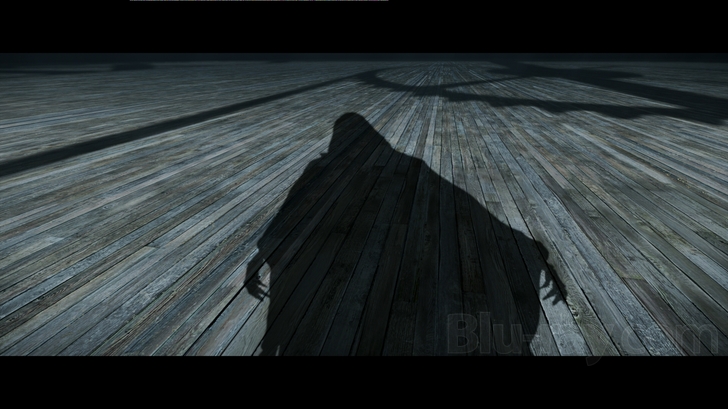 A Christmas Carol 3D
boasts a DTS-HD MA 5.1 lossless soundtrack that's up to the challenge of supporting the incredible 3D visuals. The track excels at both ends of the sonic extreme, whether offering pinpoint and hushed elements or the loudest of effects and music. The film offers up a nice mixture of both, but it's those quieter moments and dialogue-driven scenes that seem a bit more dominant. Dialogue is handled effortlessly by the center channel, and the sides and surrounds chip in with plenty of ambience, particularly in those moments where Scrooge's old house creaks and cracks and audibly shows its age. Directional effects are expertly handled, too; as Scrooge walks towards a group of carolers in one early scene, their song seems to slowly inch from left to center as he approaches. It's a subtle but very nicely done effect that adds a great deal of realism and sonic dimension to the track, both of which make for fine accompaniments to the astounding 3D visuals. The entire soundstage supports plenty of aggressive music and more pronounced sound effects, such as a cacophony of ringing bells and blaring clocks, backed up by creaking doors, creepy footsteps, and clanky chains dragging across an old wooden floor. The back channels offer several strong echoing effects throughout, notably as the Ghost of Christmas Present's voice bounces around the listening area. Heavier sound effects are supported by a fair bit of tight and balanced bass.
A Christmas Carol
's lossless soundtrack is exceptional; it's strong in every area but it's not likely to go down as one of the year's most memorable. Nevertheless, fans should be thrilled with Disney's efforts; the studio hasn't forgotten about the sound on this release that's sure to be dominated by its 3D visuals.
We found other products you might like!
Your cart is currently empty