Video
Codec: MPEG-4 MVC (12.06 Mbps)
Resolution: 1080p
Aspect ratio: 2.40:1
Original aspect ratio: 2.39:1
Audio
English: Dolby Atmos
English: Dolby TrueHD 7.1 (48kHz, 24-bit)
English: Dolby Digital 5.1 (640 kbps)
French (Canada): Dolby Digital 5.1
Mandarin: Dolby Digital 5.1
Subtitles
English SDH, French, Portuguese, Spanish, Cantonese, Korean,
Pan 3D
 (2015)
Pan 3D Blu-ray delivers stunning video and audio in this excellent Blu-ray release
During World War II, an orphan named Peter is kidnapped by pirates and brought to the magical realm of Neverland. There, he discovers he is destined to save the land from the pirate Blackbeard.
For more about
Pan 3D
and the Pan 3D Blu-ray release, see
Pan 3D Blu-ray Review
published by Michael Reuben on December 20, 2015 where this Blu-ray release scored
4.0
out of
5
.
Director:
Joe Wright
Writer:
Jason Fuchs
Starring:
Hugh Jackman
,
Levi Miller
,
Garrett Hedlund
,
Rooney Mara
,
Adeel Akhtar
,
Nonso Anozie
Producers:
Greg Berlanti
,
Paul Webster
,
Tim Lewis
Pan 3D Blu-ray, Video Quality

Pan
is credited to two cinematographers, Jon Mathieson (
The Man from U.N.C.L.E.
) and Seamus McGarvey (
The Avengers
) and was shot digitally on both the Arri Alexa XT and the Red Epic (according to IMDb). With post-production completed on a digital intermediate, including extensive digital effects, Warner's 1080p, MVC-encoded Blu-ray was presumably sourced from digital files.
From the moment the camera zooms upward from the image of the infant Peter abandoned on the orphanage steps, it is obvious that director Wright's visual design is intended to exploit depth. Similar moments occur repeatedly throughout the film, both horizontally and vertically.
Pan
doesn't use 3D to make you jump back from the screen but rather to expand the scope and scale of what are already massive sets and hugely conceived CG animations. Both the night sky over London (during Peter's "departure") and the various regions of Neverland feel more spacious and immense with the additional dimensionality of 3D presentation. The dominion of Blackbeard over his slaves/followers seems greater when the height from which he speaks to them is accentuated by 3D. The threatening scale of the "Never-birds" (a predator species encountered in the forest) is more immediately visible in 3D. The Neverland crocodiles are more impressively massive in 3D. The chaos of the final battle is easier to follow when the action occurs in recognizably separate planes in space.
The characteristics of the Blu-ray image discussed in the
2D review
generally apply here, and the 3D image is free from crosstalk or other anomalies.
Pan 3D Blu-ray, Audio Quality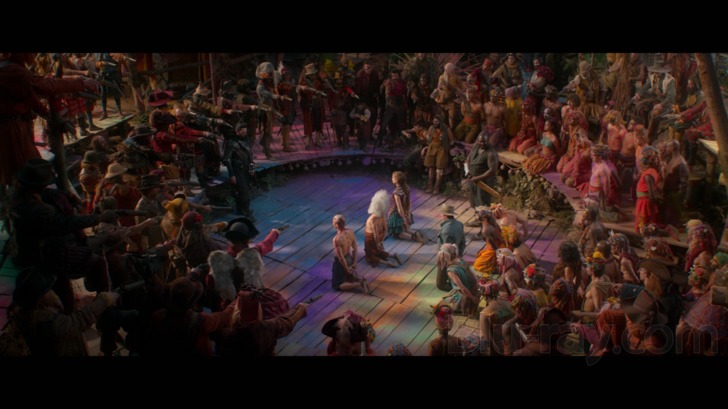 Pan
is the latest Blu-ray release to arrive with a Dolby Atmos soundtrack, which will play back on most current systems with its Dolby TrueHD 7.1 core (or 5.1, depending on the system). The sound mix is as lively, complex and involving as one would expect from a big-budget fantasy film, and it doesn't hurt that the sound designers were not constrained by any sense of realism, because so much of what happens in
Pan
is impossible. A group of boys stampeding through a dining room to get fed is something we've heard or can easily imagine, but what is the sound of a flying pirate ship evading its pursuers by rising into the stratosphere (and beyond)?
Pan
's sound team found expressive aural accompaniments for this and many other outlandish moments, some of which occur simultaneously. The final battle in particular involves a cacophony of sword play, swinging masts, toppling sails, collisions and near misses, and several other sounds that cannot be described without spoilers.
The surround immersion is impressive. Whatever one may think of the choice to have Blackbeard's miners chant the lyrics from "Smells Like Teen Spirit", the impact of the group roar emanating from the entire speaker array as Blackbeard strides to his elevated podium is memorable, especially as the camera narrows in on Blackbeard while the soundtrack picks out his voice from the crowd. More subtle, but no less thorough, immersion occurs in scenes where Peter is shown the past by Tiger Lily in a magic pool of water or by Blackbeard in a sequence designed to resemble a hall of mirrors.
Dynamic range is broad, and bass extension is deep, especially when the ships are being tossed about on waves of air. The dialogue is always clear, even with Hugh Jackman's ripely theatrical delivery. The score by John Powell (
Kung Fu Panda
and its sequels) expertly walks the fine line between serious adventure and comical cartoon.
Your cart is currently empty