Video
Codec: MPEG-4 MVC
Resolution: 1080p
Aspect ratio: 2.40:1
Original aspect ratio: 2.39:1
Audio
English: DTS-HD Master Audio 7.1 (48kHz, 24-bit)
French: Dolby Digital 5.1
Spanish: Dolby Digital 5.1
English: Dolby Digital 5.1
English: Dolby Digital 2.0

Subtitles
English SDH, French, Spanish

Discs
Blu-ray 3D
Blu-ray Disc
Single disc (1 BD-50)


Oz the Great and Powerful 3D
 (2013)


Oz the Great and Powerful 3D Blu-ray delivers stunning video and reference-quality audio in this excellent Blu-ray release

A prequel to The Wonderful Wizard of Oz that tells how the Wizard arrived in Oz became the ruler.


For more about Oz the Great and Powerful 3D and the Oz the Great and Powerful 3D Blu-ray release, see Oz the Great and Powerful 3D Blu-ray Review published by Kenneth Brown on June 7, 2013 where this Blu-ray release scored 4.0 out of 5.
Oz the Great and Powerful 3D Blu-ray, Video Quality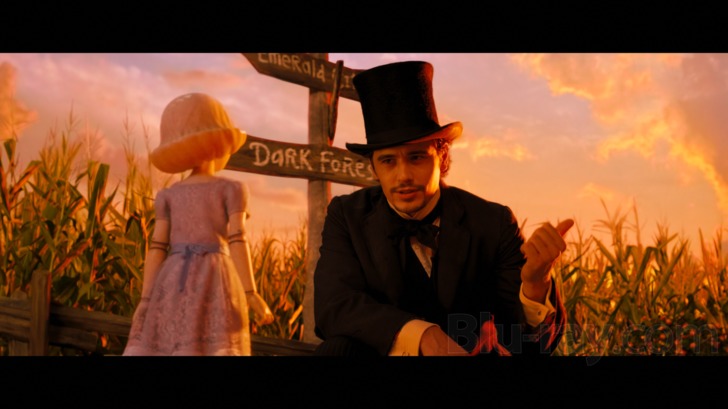 Like its separately released 2D counterpart (no catchall Combo Pack for Disney this time around), the 3D Blu-ray edition of
Oz the Great and Powerful
boasts a knockout 1080p video transfer, and even improves upon that with a stunning, technically proficient 3D experience. Opening on a cramped, window-boxed 1.33:1 Kansas traveling circus, the film soon expands outward to the 2.40:1 wonders of Oz, flooding the screen with rich hues, serving up lovely fleshtones and crackling with primary power. Color and contrast remain vibrant and consistent from that point forward, backed by piercing reds, dazzling yellows, lush greens, brilliant blues and beautifully deep, at-times ominous blacks. The slight, relative dimness of the 3D image and glasses actually benefit the presentation too, lending the image a more filmic appearance and masking some of the seams between CG and practical elements. Detail is impeccable throughout too. Edge definition is crisp and clean (without any significant ringing to point to), textures are both wonderfully resolved and natural, and delineation is as revealing as Raimi allows at any given moment.
The 3D, though, is where the presentation really shines. Depth and dimensionality are outstanding, allowing the Land of Oz to feel grander, more infinite and more magical. Aggressive 3D elements pop with precision and visual punch, and very little ghosting appears. (Although it's important to remember crosstalk is almost always a product of 3D displays and glasses, and rarely the result of a faulty encode.) Wide shots involving legions of flying monkeys or hundreds of Munchkins have a bit more trouble, but it isn't remotely troubling and, again, traces back to the equipment being used, not the presentation. Aliasing is also MIA, as is any other anomaly that might drag down the 3D transfer. There's a hint of minor crush and intermittent noise present in the film's darkest scenes, sure -- among them Oscar's first encounter with Glinda -- and a few flushed faces along the way, but none of it is very noticeable, much less distracting. Macroblocking, aliasing, banding and other unwelcome beasties are held at bay, and the film's CG, though rendered more problematic by such exacting clarity, is just as refined as it should be. Honestly, 3D is the way to go with this one.
Oz the Great and Powerful 3D Blu-ray, Audio Quality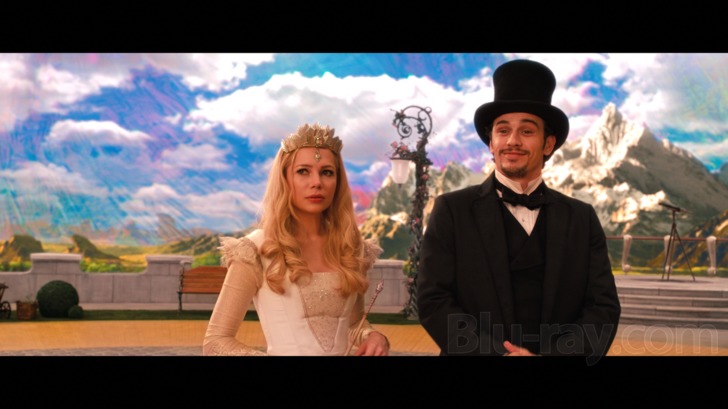 Oz the Great and Powerful
exerts tremendous power by way of an energetic and enveloping DTS-HD Master Audio 7.1 surround track. However, Disney has settled on a single "Near Field" mix, optimized for smaller listening environments rather than larger home theaters; something the studio does quite often, this simply being the first time the menus have labeled a near-field mix so clearly. Fortunately, a very small number of listeners (I'd estimate less than 1%) will actually be affected, as the soundstage hasn't been narrowed in any way perceivable outside of a very large, open environment. Two 7.1 mixes would, of course, be more ideal -- one near-field, one not -- but, again, the words "near field" will raise far more questions than the track itself will cause any real pause or concern. Dialogue is crystal clear, intuitively grounded and perfectly prioritized throughout, effects are bright and involving, and dynamics are outstanding. Rear speaker activity is full of transparent awe and directional wonder, creating a bountiful, bustling soundfield as immersive as it is engaging. LFE output, meanwhile, arrives with terrific fanfare, bolstering every element that requires its support or has need of its strength. All told, the mix is more magical than the film it accompanies, and goes a long way toward making Oz a more alluring and frightening land than it might be otherwise.
Your cart is currently empty